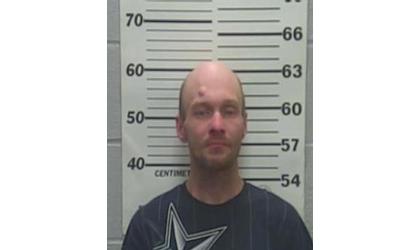 31-year-old Derek S. Frakes
(KAIR)--A Saint Joseph man flees from Atchison Police in early May, but returns to Atchison weeks later, when he is caught, and goes to jail.
That's what Atchison Police Chief Mike Wilson says happened in the case of 31-year-old Derek Frakes.
"At 4 am on May 8, we had an officer attempt to stop a motorcycle at 6th and Spring," Wilson said. "The motorcycle fled from the officer eventually into Missouri. He was not taken into custody that early morning. However, a warrant was subsequently issued for the arrest of the driver."
Wilson says it was around midnight Tuesday that Frakes was again spotted in Atchison.
"We had an officer take Frakes into custody in the 400 block of U.S. 59 on that warrant," Wilson said. "During that arrest, methamphetamine was found on his person."
Frakes was arrested on charges of possession of methamphetamine and drug paraphernalia, along with the Atchison County District Court warrant for fleeing and attempting to elude, along with other traffic charges.
Frakes was booked into the Atchison County Jail.