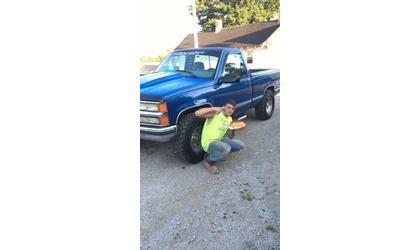 Photo of missing truck/Credit:Facebook
(KAIR)--An investigation is launched following a report of a stolen vehicle early Thursday morning.
"We did initiate an investigation after a report was made that a 1997 Chevrolet pickup truck, blue in color, had been taken behind a residence in the 500 block of Park Street, Wilson said. "It was a 20-year-old victim that reported it was taken sometime between midnight and 5:30 a.m."
That's Atchison Police Chief Mike Wilson.
He said it is believed the keys were left inside the vehicle.
Anyone with information regarding the stolen truck is asked to contact Atchison Police.