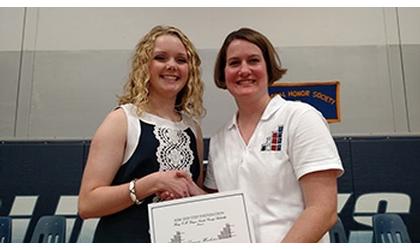 Lauren Herbster 2017 scholarship recipient
(KMZA)--The Nemaha County STEP Foundation has announced the recipient of a scholarship.
According to a press release, 2017 Sabetha High School graduate Lauren Herbster was recently designated by the STEP Foundation as the recipient of the Harry C.M. Burger Nemaha County Scholarship.
The release says because Burger felt very strongly about ensuring America's future through the education of its young people, he endowed the scholarship through the STEP Foundation, to be awarded to a graduating senior each year from Nemaha County who enrolls at Kansas State University. The scholarship is in the amount of $650 and is renewable for four years.
Lauren is the daughter of Dave and Connie Herbster.
Herbster will attend Kansas State University where she plans on majoring in Life Science with a Pre-Medicine focus. Upon completion of her bachelor's degree, Lauren aspires to continue her education and become a family physician in a rural Kansas community.
During high school, Herbster has been a Certified Nurse Assistant for disabled adults and a personal caregiver for an MS patient.
Herbster was an active student at Sabetha High School, serving as Co-President of Fellowship of Christian Athletes, Secretary of the National Honor Society and Student Council Finance Committee Chair. She has also participated in her community through the Mobile Food Pantry, her church youth group, and as bible study youth leader.