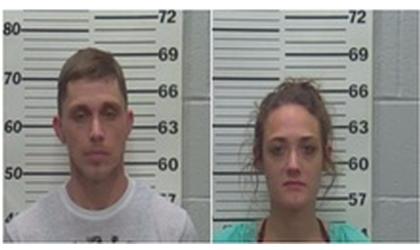 31-year-old Donald L. Biggs and 30-year-old Jade L. Riechmann
(KAIR)--A traffic stop in Atchison lands two Independence, Missouri residents behind bars on multiple charges including possession of methamphetamine.
"At 8:15 on Tuesday evening, an officer conducted a traffic stop on a vehicle in the 800 block of U.S. 59," said Atchison Police Chief Mike Wilson. "The driver 30-year-old Jade Riechmann, of Independence, was taken into custody for driving while suspended. Both Riechmann and her passenger, 31-year-old Donald Biggs, were taken into custody for obstructing legal process related to giving a false identity for Biggs."
Additionally, K-9 departments subsequently alerted to the presence of narcotics in the vehicle and methamphetamine and marijuana were located, he said.
He said Riechmann, the driver, was arrested on charges of possession of methamphetamine in addition to her other charges.
Biggs, the passenger, was arrested for possession of methamphetamine, possession of marijuana, possession of drug paraphernalia as well as multiple outstanding warrants in Platte, Jackson and Clay counties in Missouri and Doniphan County in Kansas.
Both were booked into the Atchison County Jail where they are held without bond.