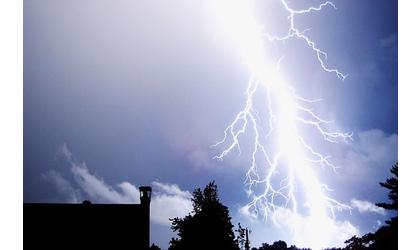 (KAIR)--Severe thunderstorms rolled through the local area Friday night, into Saturday morning, causing damage, power outages, and the threat of a tornado.
A tornado warning was issued by the National Weather Service shortly after 11:00 when rotation was spotted in Atchison County, near Huron, where 65 to 85 mph winds were reported. "Right now it all seems like straight line winds," Atchison County Emergency Management Director Wes Lanter told MSC News early Saturday morning. "There was a rotation above the Huron area, but we can't confirm there was ever a touchdown."
Lanter said initial assessments indicated that the Atchison County Community of Lancaster was the most hard hit by the severe weather. "Trees down, sheds damaged, houses damaged," Lanter said. "Huron was checked out, and there was minor damage there, but nothing as major as what we've seen in Lancaster. Effingham also had some damage, trees down, and some buildings damaged. We had 83 mph winds clocked in Lancaster, 60 in Effingham, to 70 down by Nortonville"
The severe weather also left thousands without power throughout the local region.
According to Westar Energy, the area most heavily impacted by a loss of electricity was Leavenworth County, while thousands were also left in the dark in Atchison and Marshall Counties.
Other smaller outages were also reported as the storms swept through.