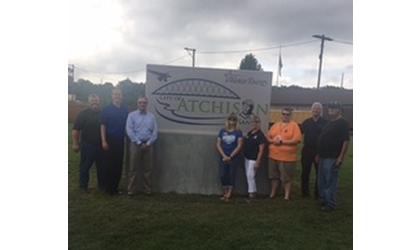 (KAIR)--An artistic investment.
That's what Atchison City Manager Trey Cocking calls a new monument donated by Westar Energy that was unveiled Friday morning on the southeast corner of 10th and Main in Atchison.
"We've really worked closely with Westar over the last six years," Cocking said. "We've had a lot of problems with power outages just with Bradken and MGP, they had such a high demand for power. So, we worked closely with them over the last six years on a new infrastructure system for their power to get in town and provide reliable electricity to our giant industrial users in town."
Representatives from Westar along with city leaders gathered around the 8-foot monument affirming Westar's special relationship with the city of Atchison.
"Things like this is what makes a community special, when you have something that differentiates it from any other community in Kansas or the United States," Cocking said. "I'm just proud of what has happened here."
As part of Westar's $50 million investment in Atchison, the new Amelia Earhart substation at 5th and Q Street will feature a 12-foot tall concrete wall around the substation with a timeline outlining Earhart's personal and professional accomplishments.