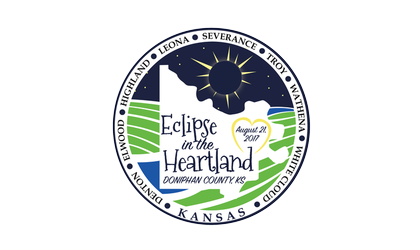 (KNZA)--Doniphan County is preparing for the once in a lifetime solar eclipse, set to happen on August 21st.
County Emergency Management Coordinator Julie Meng says she has been working with emergency responders to form an Emergency Action Plan for the Total Eclipse events to be held in the county.
Area emergency planners are estimating more than one million visitors to the local northeast Kansas region for the solar eclipse. That's due to the local area allowing a clear view and a longer length of total darkness than in other spots across the nation.
In Doniphan County, totality is estimated to last 2 minutes and 38 secs---the longest duration in Kansas.
The county seat of Troy will kick off its " Eclipse in the Heartland" party on Sunday, August 20th, with music, street vendors and a beer garden on the courthouse square and an evening 5K Eclipse Run. On Monday, eclipse day, Troy will offer four designated viewing sites: the courthouse square, high school football field, city baseball field and the 4-H fairgrounds. There will be shuttle runs from parking areas to the sites.
Other communities in Doniphan County—including Highland and Elwood—are planning eclipse events as well.