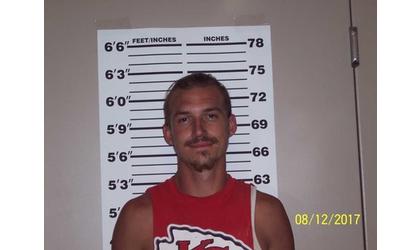 Tyler Stevens
(KNZA)--A Troy man face numerous charges after allegedly making threats and discharging a weapon at a Troy bar last month.
28-year-old Tyler Stevens has been charged in Doniphan County District Court with four felony counts---including two counts of aggravated assault and two counts of criminal threat,
In addition, he faces misdemeanor charges of criminal restraint, possession of a firearm while under the influence, disorderly conduct, driving while under the influence and transporting an open container.
The Kansas Chief reports Stevens was arrested during the early morning hours of August 12th following a disturbance at Rookie's Sports Bar and Grill.
Officers responded to the bar after being informed an individual was discharging a firearm in the parking lot of the establishment.
Officers were told Stevens had been asked to leave the establishment, drove away briefly, but then returned. When he returned, he allegedly made threats and discharged the gun.
When ordered by officers to drop the weapon, the newspaper reports Stevens refused to comply and had to be tased in order to be taken into custody.
Stevens remains in the Doniphan County Jail on a $50,000 bond.
A status conference in the case is set for September 14th.