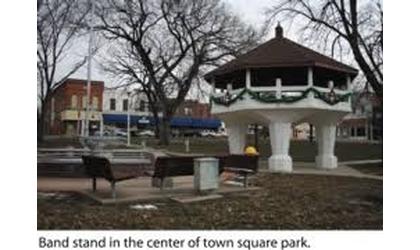 (KLZA)--The Richardson County Fair is this week in Humboldt.
The theme this year is: "Celebrating 150 Years of the Good Life."
The Richardson County Agricultural Society and Humboldt Chamber of Commerce sponsor the annual event.
Events will begin Wednesday evening with the Coronation Program. During the 7:00 p.m. program in the park the King and Queen of the Fair will be crowned. The program will feature musical talent and costuming.
Parades will begin at 11:00 a.m. each day of the Fair featuring area bands, floats, horses, costumed children along with decorated vintage and novelty vehicles. The King and Queen's float will lead the parade each day around the square in Humboldt.
Thursday events include goat and sheep judging beginning at 1:00 p.m. at the Livestock Center. The Southeast Nebraska, Community Band will perform at 6:30 p.m. followed by the 7:30 presentation of the AK-SAR-BEN Good Neighbor Award, to Vanes Moerer. Vanes became a member of the Ag Society in 1989. He passed away this past July.
100 Year Pioneer Farm Family Awards will be presented to the Dahlke Agricultural Trust, The Eugene Dahlke Family of Humboldt and Myron Leech of Humboldt.
150 Year Pioneer Farm Family Awards will be presented to Jerry Nemecheck and Jesse Joe Nemechck of Humboldt.

Friday events will include the 11:00 a.m. parade. The poultry judging at 1:00 p.m. The Kiddy Tractor Pull at 4:00 p.m. A Street Dance will begin at 9:30 p.m. featuring the Outlaw Creek band.
Saturday begins with an antique tractor show at 8:00 a.m. that continues throughout the day. The parade will be at 11:00 a.m. The Dairy and Beef shows will begin at 1:00 p.m. along with the Horse Show Judging.
The D.C. Lynch Carnival will be open all four days of the Fair around the square in Humboldt.
The Free Acts are presented on stage in the park at 2:00 p.m. and 8:00 p.m. Thursday, Friday and Saturday.
Thursday Sound Exchange, an a cappella group will bring music and comedy to the stage. Sound Exchange is based in the Twin Cities of Minnesota.
Friday the Free Act is The Sweetwater Band. Nebraska's premier party band since 1978. They will play a variety of music ranging from classic and modern country to classic rock, blues and pop songs.
The Saturday free Act is Sherwin and Pam Linton who will present a tribute to Johnny Cash.
Later Saturday night, Naked Sunday, a band based out of Omaha will bring a guitar-based rock show to the stage in the park.