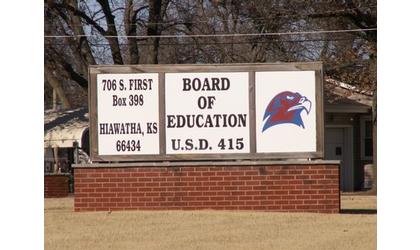 (KNZA)--The Hiawatha Board of Education has been asked to allow high school students to participate in a new sport---clay target shooting.
The Board heard a presentation Monday evening from Tom Binyon, state director of the Kansas High School Clay Target League.
Binyon said since the League was established in 2016 the number of participating schools has grown. He said last year there were 39 schools with teams involving about 715 students and he expects that number to double in 2018.
Students in 6th-12th grades that possess a league-approved firearm education certificate are eligible to participate in the co-ed extra curricular activity.
Binyon says the sport is offered as an alternative for those that don't participant in other sports and there would be no cost to the district.
Hiawatha High School Activities Director Kim Lillie says there are a solid 10 to 15 students interested in participating. Five students is the minimum number for a team, and there is no maximum number.
Binyon says the team would compete for 9 weeks in the spring sports season, with all competition at the home range followed by the state tournament in June in Wichita.
Art Vonderschmidt with the Brown County Quail Forever Chapter says the new Falls City shooting range has offered to allow them to use their facility for just the price of ammunition.
Binyon says they are just requesting to be allowed to use the school name.
The Board took no action, with a decison to come at their November meeting.