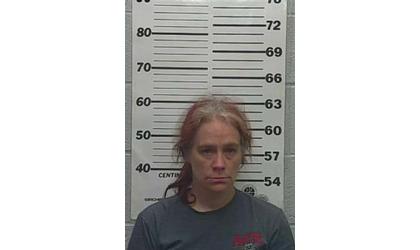 (KAIR)--Allegations of alterations to a vehicles identification land a Holton woman in legal trouble.
Arrested last week was 44-year-old Melissa Britton.
She was arrested in Atchison County on charges related to offenses including driving while suspended, no insurance, no current tag, altering a vehicle identification number, and possession of stolen property.
Atchison County Sheriff Jack Laurie told MSC News the arrest was made October 5 at 4771 K116 Highway, as Deputies were working a separate case. "The VIN number itself, it was covered by some type of piece of rubber. They had to pry it up off of there to be able to read it," Laurie said. "There were some parts of that VIN plate that had been removed. We're still looking into that vehicle as well. It's uncertain why somebody would alter that without it being a stolen vehicle."
Laurie said the license plate on the vehicle with the altered VIN number was a dealer's tag stolen from Shawnee Wholesale Motors of Topeka.
Following her arrest, Britton was booked into the Atchison County Jail, but has since been released on a bond of $1,500.