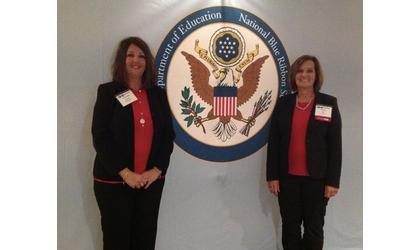 ( L-R) Calvert Elementary teachers Autumn Reeves and Cindy Cole
(KLZA)--Nebraska Governor Pete Ricketts and Miss Nebraska Allison Tietjen will visit Calvert Elementary School in Auburn Tuesday, for the Calvert Elementary School's National Blue Ribbon Award Ceremony.
The National Blue Ribbon School's Program honors public and private elementary, middle and high schools where students achieve very high learning standards or are making notable improvements in closing the achievement gap.
Schools are honored in one of two performance categories. Calvert Elementary was recognized as an Exemplary High Performance School.
The ceremony is open to the public and will begin at 8:30 a.m. in the Calvert Elementary School Gymnasium. The school is located at 2103 O Street in Auburn.
Calvert teachers Autumn Reeves and Cindy Cole attended the National Blue Ribbon Ceremony in Washington D.C., and will unveil the National Blue Ribbon Flag and plaque.