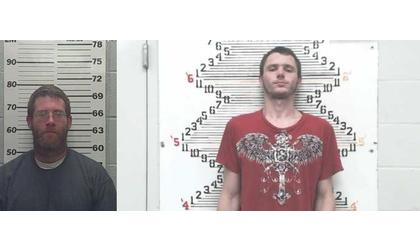 Ernest Reynolds III and Roger Duckett
(KAIR)--Two men go to jail, blamed for burglarizing an Atchison car wash, and for stealing valuable parts from vehicles parked in the city. "Forced entry was made into the Irish Mist Car Wash control room in the 900 block of U.S. 59 around 1:30 a.m. on December 18," Atchison Police Chief Mike Wilson told MSC News. "On the same night, thefts occurred from a number of vehicles that were parked in the 2600 block of U.S. 73. These thefts included catalytic converters, and exhaust cleaning system tools, and wheels."
Wilson said 39-year-old Ernest Reynolds III, of Morrill, in Brown County, was arrested Saturday, while 22-year-old Roger Duckett, of Leona, in Doniphan County, was apprehended Sunday. "We've had an investigation ongoing. We developed two suspects. We knew that they frequented the Brown County area. We worked with Brown County law enforcement to locate these two subjects and they both were taken into custody over the weekend."
Reynolds and Duckett both face charges of felony burglary, felony criminal damage to property, and theft.
Reynolds was arrested by the Brown County Sheriff's Office on related warrants and booked into the Atchison County Jail, where he's held on a bond of $10,000.
Duckett was arrested on related warrants by the Hiawatha Police Department and booked into the Brown County Jail, where he's held on a bond of $20,000.