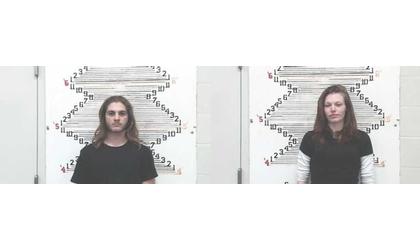 Michael Costa & Julian Geiger
(KNZA)--A report of a suspicious vehicle in Brown County leads to the arrest of two—including one on drug charges.
Brown County Sheriff John Merchant says deputies responded Tuesday to a report of a suspicious vehicle stopped in the middle of the road with its lights out.
Merchant says the vehicle was located, and two individuals arrested, after the Sheriff's Department K-9 alerted on the vehicle. A third individual was issued a citation.
25-year-old Michael Costa, of Hiawatha, was arrested on charges of possession of methamphetamine, marijuana and drug paraphernalia.
28-year-old Julian Geiger, of Robinson, was arrested on a warrant for failure to appear.
23-year-old Brendan Boch, of Lincoln, Nebraska, was issued a citation for no proof of insurance.
As of Thursday morning, Costa remained in the Brown County Jail on a $25,000 bond, while Geiger remained jailed on a $2,000 bond.
The Kansas Highway Patrol assisted.