New T.V. series features B.C. grad
01/16/2018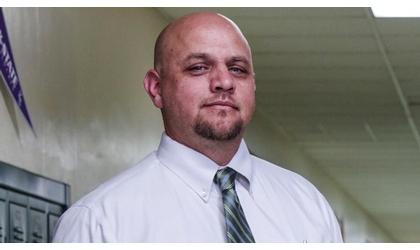 Daniel Ackerman/Photo credit:A&E Television
(KAIR)--A new television series focused on adults who secretly went back to high school takes place at Topeka's Highland Park High School; and as the second episode of the A&E channel's "Undercover High" debuts Tuesday evening, local viewers may remember one of the featured high school staff members from his time in Atchison.
Daniel Ackerman is the assistant principal at Highland Park.
According to his biography posted on the A&E website, Ackerman is a graduate of Atchison's Benedictine College, receiving his Bachelor's degree in History, with a minor in secondary education, in 1995.
After his years in Atchison, Ackerman began an 11-year period of teaching in an alternative program at Topeka's Washburn Rural High School, completing his Master's degree in Educational Administration from Topeka's Washburn University in 2006.
His career in secondary education then took him to Highland Park and to his current featured presence on "Undercover High."
According to A&E's website, the series "follows seven young adults, ranging in age from 21 to 26, who embed themselves for a semester" at the Topeka High School.
"The participants pose as typical students–attending classes, making friends and participating in school clubs and activities–to provide an inside look at what it's like to be a teenager today."
"Undercover High" airs Tuesday night at 9:00 on the A&E channel.
© Many Signals Communicatons
You will need to be logged in to leave a comment.
Please Login The posting of advertisements, profanity, or personal attacks is prohibited.
Click here to review our Terms of Use.