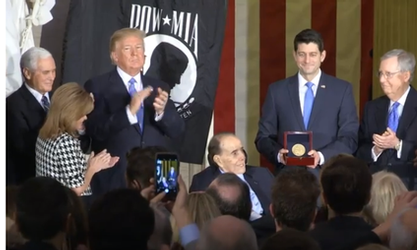 Credit: YouTube
WASHINGTON (AP) — Former Senate Majority Leader Bob Dole, says he's "extremely honored" to receive the Congressional Gold Medal.
It's the highest honor the nation's legislative body has for a civilian.
House Speaker Paul Ryan, a Republican from Wisconsin, presented the medal to the decorated World War II veteran, and Kansan, during a ceremony at the Capitol Wednesday.
Dole also ran for president, winning the Republican Party's nomination in 1996. He lost to Democrat Bill Clinton.
Kansas 2nd District Republican Congresswoman Lynn Jenkins was among the many who spoke during the ceremony, citing Dole's accomplishments as a leader to both Kansas and the nation.
Also in attendance was Republican Kansas Senator Pat Roberts, who, along with Jenkins, introduced the Bob Dole Congressional Gold Medal Act on July 24, 2017.
It passed the Senate on August 3, 2017, with every single U.S. Senator cosponsoring the legislation. It passed the House on September 5, 2017.
The 94-year-old Dole thanked his colleagues and staff, and all the speakers, including President Donald Trump, for their "kind words." Then, in a flash of his trademark wit, Dole said of the tributes, "They're probably not true, but they're kind."
Dole is only the 8th out of 1,973 Senators to earn the award. Other Congressional Gold Medal Senate honorees include Senators Robert Kennedy, John Glenn and Harry Truman.