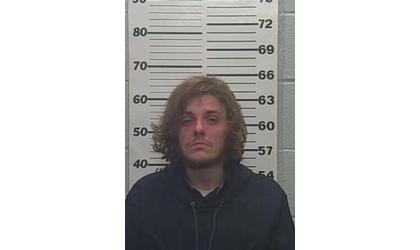 Gage Bryant
(KAIR)--One Kansas City man is arrested, while another remains on the run, following a theft-turned pursuit in Atchison.
Police Chief Mike Wilson tells MSC News it began Wednesday evening, at Walmart,
where officers responded after the theft was reported around 9:30. "As the officers arrived, a Pontiac Grand Am drove away from the area and fled south on U.S. 73. That vehicle left the roadway at 262nd and U.S. 73 and became disabled in a ditch. The driver bailed out of the car and fled on foot. That vehicle, it was determined, had been reported stolen out of Kansas City, Missouri."
As the search began for the driver, police learned that a second suspect was also involved, having left the store on foot. "That suspect was spotted in the area of the 700 block of Spring [Street]. A foot pursuit ensued, eventually leading officers to a vacant residence in the 400 block of South 6th."
Wilson says that suspect, identified as 28-year-old Gage Bryant, was apprehended, while the other suspect, believed to have driven and wrecked the stolen car, remains on the run. "The [driver] fled into the darkness into a field area. He's not been located but we believe we have determined who he is, and we will present that case to the prosecutor's office. We believe that he, too, is from the Kansas City area."
Bryant was taken into custody on charges of interference with law enforcement, possession of stolen property, and possession of methamphetamine and drug paraphernalia.
Following his arrest, Bryant was booked into the Atchison County Jail.