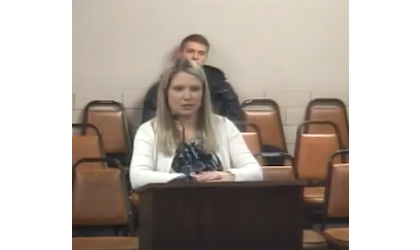 Atchison City Manager Becky Berger addresses the City Commission on Feb. 20/Credit: Facebook
(KAIR)--A familiar face becomes the new City Manager for the City of Atchison.
City Finance Director/Assistant City Manager Becky Berger is named to the role, following a search narrowed to four finalists for the position. "I'm very excited," Berger told MSC News. "This has been a great organization to work for, and we have done a lot of really positive things that I'm excited to continue to bring forward. I can't imagine anywhere else I'd rather be."
Atchison Mayor Allen Reavis, in a press release Thursday morning, made the announcement of Berger's selection, saying the City Commission is "excited to announce the selection process has come to a close," adding that it's anticipated that Berger's formal appointment to the position will "be completed after final contract approval," with the contract to "be voted on at the March 19th City Commission meeting.
"We had, at one point, seven candidates that were just amazing," Reavis told MSC News. "That turned into four and it was tough, it was a really tough choice. It was down to two, it got tougher, and Becky came out on top, and we're behind her a hundred-percent."
Berger, looking towards the future, stated her goals in the role of leadership. "A lot of what I have in mind is continuing on a lot of the successes we've already built," Berger said, citing the city's economic development programs, and what she calls growth and improvements made by the city.
The City Manager's position came vacant following the resignation of Trey Cocking last year, who ended his duties August 30.
Since that time, Berger has served as Interim City Manager.
She has served as Finance Director/Assistant City Manager since 2013.