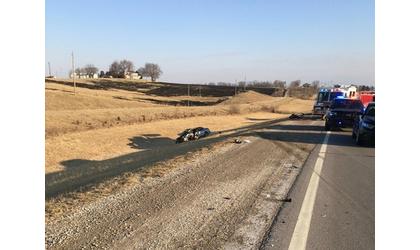 Credit: Atchison Police Dept.
(KAIR)--A Friday morning Atchison crash between a car and a semi sent a Leavenworth man to the hospital.
Atchison Police Chief Mike Wilson tells MSC News it happened in the 2000 block of South U.S. Highway 73, where 19-year-old Leavenworth resident Preston Pfannenstiel was northbound on the highway.
His car crossed the center lane into the southbound lane, where Pfannenstiel's car collided with a southbound semi tractor trailer.
Pfannenstiel was transported by EMS for hospital treatment of his injuries.
The driver of the semi, identified as 38-year-old Gary Benight, of Saint Joseph, Missouri, was not hurt.
The wreck happened around 7:30 Friday morning, with Atchison Police joined by the Atchison Fire Department, and Atchison County EMS, at the scene.