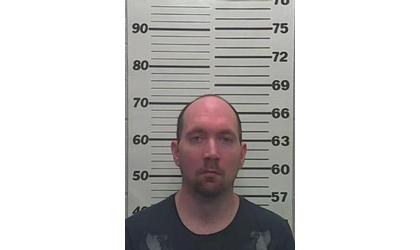 Michael Goldman/Credit: Atchison Co Sheriff's Office
(KAIR)--An Atchison man goes to jail, accused of an illegal, sexual relationship with a young teenage girl.
Atchison Police Chief Mike Wilson told MSC News it was a family member of the teen who discovered the alleged crimes and called police. "The Police Department initiated an investigation in late March, focusing on unlawful sexual activity with a 14-year-old girl that occurred on multiple occasions at a residence in Atchison. That investigation led to Monday's arrest of 34-year-old Michael Goldman, of Atchison."
Wilson said the crimes, allegedly committed by Goldman, began late last year. "We know that these unlawful contacts, or sexual activity, occurred at various times between late December of 2017 and early February of 2018. It came to our attention in late March."
Wilson said the arrest of Goldman wrapped up a 10-day investigation.
He was taken into custody for aggravated indecent liberties with a child and electronic solicitation.
Following his arrest, Goldman was booked into the Atchison County Jail.