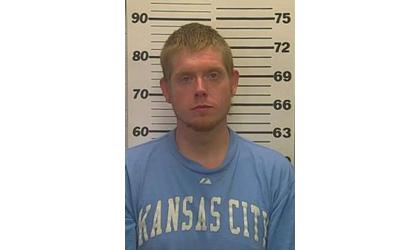 Matthew Lang/Credit: Atchison Co Sheriff's Office
(KAIR)--An Ottawa, Kansas man arranges to purchase a vehicle from an Atchison resident; but when the seller gets suspicious of the check given to him by 26-year-old Matthew Lang, police are called and Lang goes to jail.
Atchison Police Chief Mike Wilson tells MSC News an investigation was launched Monday, when the 39-year-old seller contacted his office with his concerns. "Lang had given the seller a $12,000 check that the seller was questioning, and he contacted our officers. The officers did determine the check was forged, and actually involved an account of a Kansas City business that had closed the account 8-years earlier. So, when Lang arrived in Atchison Monday afternoon to get the vehicle, he was met by officers who took him into custody."
Lang faces charges of forgery and making false information.
Following his arrest, he was booked into the Atchison County Jail.
According to jail records, his bond was set at $10,000.