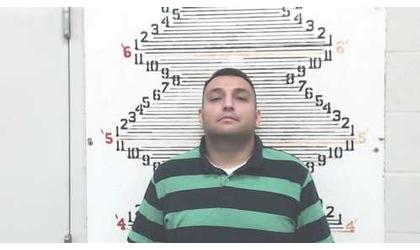 Oscar Martinez
(KNZA)--The third suspect in a 2017 Hiawatha home invasion has waived his preliminary hearing and been bound over for trial.
28-year-old Oscar Martinez, of Bern, opted to waive his preliminary hearing Wednesday following nearly two hours of testimony.
He was bound over to Brown County District Court on felony charges of aggravated robbery, aggravated burglary and aggravated battery along with a misdemeanor charge of criminal restraint.
Arraignment was scheduled for the morning of June 11th.
Martinez was arrested in February on a Brown County warrant and extradited from the state of Nebraska where he had been held on separate charges.
Co-defendants, Sabetha residents Edgar Martinez and Jazmene Hicks, were sentenced in November on charges in the case.
Edgar Martinez was sentenced to 5 ½ years in prison, while Hicks was placed on 36-months supervised probation.
Authorities say the trio broke into a home at 121 Apache Street in Hiawatha on May 16th of last year. The occupant, Ray Atlakson, told police he was battered and robbed, with his hands bound behind his back before the suspects fled the scene.
Taken were a pair of car keys, billfold and RCA tablet.
Atlakson was treated for injuries at the Hiawatha Community Hospital.