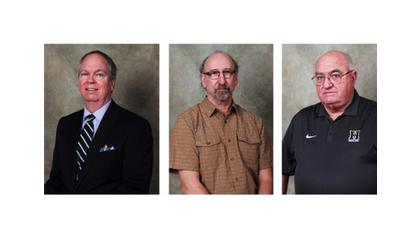 ( L-R) Dr. Craig Mosher, Glen Gross & Bill Noll
(MSC News)--Three longtime Highland Community College employees are set to retire.
Dr. Craig Mosher has 30 years of lasting memories at the College, beginning in 1987 as the Director of Development. In 1989, he became the Director of Institutional Advancement, and later, Vice President of Institutional Advancement. His responsibilities have included serving as executive director of the HCC Foundation, the College's accreditation liaison with the Higher Learning Commission, marketing and public relations.
Photography Instructor Glen Gross began at the College as the Artist in Residence in 1988. In the fall of 1989, he became a faculty member for Photography and has served the College in that capacity for 30 years. Gross has also taken on the role as Yost Art Gallery Coordinator on and off through his years. He has been instrumental in organizing HCC Art Day, one of the biggest, most successful high school art contests in Kansas.
Bill Noll was hired on at HCC as an adjunct instructor the fall of 1996 while he completed his Masters Degree. In the spring of 1998, he became the full-time instructor for History, Government, and Geography. Noll brought real world experiences to his classroom due to his extensive career and travels in the military. Noll has also served as the college's official clock operator during sporting events.