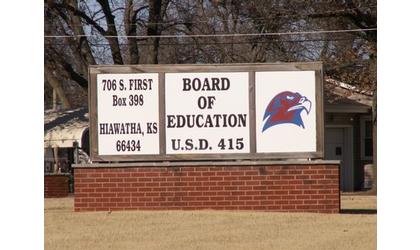 (KNZA)--Teachers and students in the Hiawatha school district will receive active shooter response training.
Captain Dennis Entriken and officer Brandon Lowe with the Hiawatha Police Department met with the USD 415 Board of Education Monday evening to inform them about the ALICE training program. Both are certified instructors for the program.
ALICE stands for Alert-Lockdown-Inform-Counter-Evacuate.
Entriken says ALICE is an option-based program, providing options for different scenarios.
He says the Department of Homeland Security has determined the traditional lock down approach is no longer enough.
Lowe says the program lets the student make the decision themselves how best to respond.
Teachers in the district will receive the ALICE training first, which is expected to take place before the start of the new school year.
Students will then receive the training in September. An information night for parents will be held prior to the training.
There will be no cost to the district for the training.