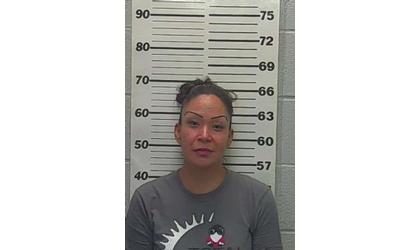 Katie Thomas/Credit: Atchison Co Sheriff's Office
(KAIR)--An Atchison woman goes to jail, accused of using a weapon and a vehicle to threaten a 55-year-old man.
Atchison Police Chief Mike Wilson told MSC News it allegedly happened Monday, in the 1200 block of North 4th Street, with the resulting investigation leading to Tuesday's arrest of 32-year-old Katie Thomas. "Occurred about 5 p.m. Monday afternoon. A verbal altercation turned threatening...the victim was threatened with an axe. At one point, the suspect was in a vehicle, and according to the victim, attempted to strike the victim with the vehicle. Officers were called and we were given different stories by the victim and the suspect, [but the investigation led] us to other evidence."
Wilson said Thomas and the victim both live at the residence.
Thomas was taken into custody on charges of aggravated assault and criminal damage to property.
Following her arrest, Thomas was booked into the Atchison County Jail.
Her bond is set at $1,500.