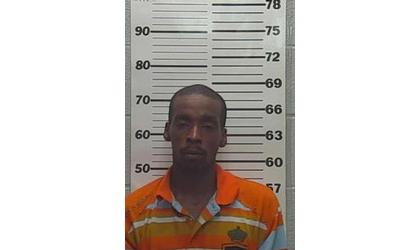 Perez Smith/Credit: Atchison Co Sheriff's Office
(KAIR)--Reported drug activity leads law enforcement to respond, and that leads to a traffic stop that lands an Atchison man in jail.
Atchison County Sheriff Jack Laurie told MSC News Perez Smith was spotted Wednesday in the 800 block of Laramie Street, in Atchison. "Deputies received some information about possible drug activity going on at a residence over in that area. They actually saw Mr. Smith drive by and knew [his license] was suspended and conducted a traffic stop. Following the traffic stop, he was released on a notice to appear."
Laurie said when the actual owner of the vehicle arrived, a search was conducted, and that led to the discovery of what he says were illegal drugs. "The owner allowed them to gather some evidence out of the vehicle, which was methamphetamine, and some other items. Later obtained a warrant for Smith and picked him up on those charges."
Smith was arrested Thursday on the warrant charging him with possession of methamphetamine and drug paraphernalia.
Following his apprehension, Smith was booked into the Atchison County Jail.