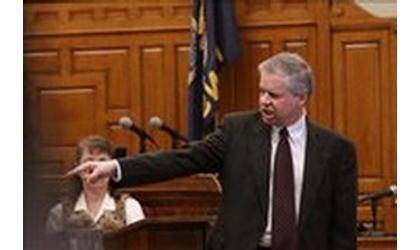 Atchison County Attorney Gerald Kuckelman
(KAIR)--The Atchison County Attorney is one of four nominees selected to fill a judicial vacancy.
According to a news release from the Kansas Office of Judicial Administration, Jerry Kuckelman's name has now been submitted, along with three others, to Governor Jeff Colyer, by the 1st Judicial District Nominating Commission.
Colyer has 60-days to decide which of the four will fill the vacancy created by the June 16 retirement of Judge Gunnar Sundby.
The 1st Judicial District is composed of Atchison and Leavenworth Counties.
Along with Kuckelman, attorney Terri Harris, of Basehor, Assistant Leavenworth County Attorney Michael Jones, and Deputy Leavenworth County Attorney Joan Lowdon, are submitted as nominees to replace Sundby.
Nominees for district judge must be at least 30 years old, a lawyer admitted to practice in Kansas and engaged in the practice of law for at least five years, whether as a lawyer, judge, or full-time teacher at an accredited law school, and a resident of the judicial district at the time of taking office and while holding office.
The release identifies the 1st Judicial Nominating Committee members as Kansas Supreme Court Justice Eric Rosen, who serves as the nonvoting chair, Atchison residents Julie Clem and Rosemary Nies, Leavenworth residents Ronald Bates, Mark Preisinger, and Kevin Reardon, Todd Thompson, of Basehor, Douglas Waters Jr., of Lansing, and Lois Meadows, of Tonganoxie.