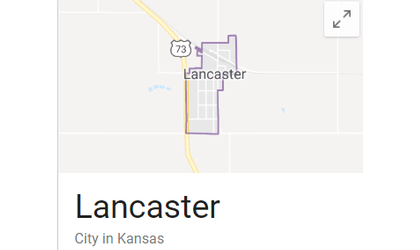 Credit: Google Maps
(KAIR)--A boil advisory is issued for the City of Lancaster.
Mayor Tim Callahan Tuesday afternoon said the advisory is effective immediately, and will remain in place until further notice.
Issuance of the boil advisory follows the start of water line work in the Atchison County community.
Callahan said when the work began Tuesday morning, the water pressure at several residences dropped to zero, leading to the need for the advisory.
According to the Kansas Department of Health and Environment, failure to maintain adequate pressure may result in a loss of chlorine residual levels and bacterial contamination.
Customers should boil water to be consumed for one minute prior to use, or choose bottled water while the advisory remains in place.