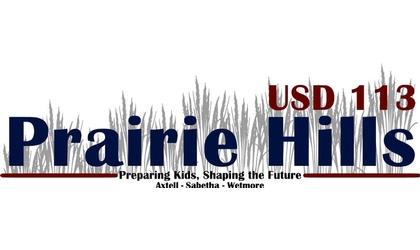 (KNZA)--The Prairie Hills USD 113 Board of Education has selected an architect for proposed project at the Axtell school.
Superintendent Todd Evans says the Board this week voted to hire Ekoe Architecture, of Manhattan, to develop plans and a cost estimate for moving the administration office to the south end of the school and re-purposing the existing space to use for learning needs.
Evans says the purpose of the project is provide better security for Axtell students.
USD 113 has received a $17, 500 Safe and Secure Schools grant to help with the project.
In other business, the Board accepted several donations—including two from Kent and Donna Saylor.
One for $11,500 will be used to remodel the Sabetha High School art room and repaint a large portion of the downstairs hallway. The other for $5,100 will pay for half the cost of a section of new fencing at the Sabetha High School football stadium.
Also accepted was a donation of $1,610 from the Stan Keim family for the baseball program at Sabetha High School.
Following an executive session, the Board approved a negotiated agreement with teachers for the 2018-19 school year.
Under the agreement, Evans says teachers will receive an average salary increase of two percent.
The Board also approved a compensation package for administrators for the 2018-19 school year, which will result in an average salary increase of one percent.