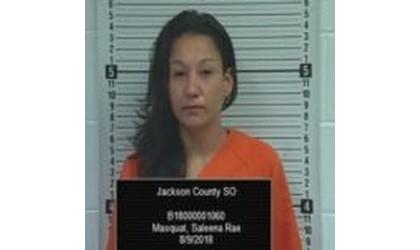 (KNZA)--A Mayetta woman arrested last week has been tied to a fourth alleged burglary in Jackson County.
That word Friday in a press release issued by Jackson County Sheriff Tim Morse.
33-year-old Saleena Rae Masquat was arrested on August 9 after a sheriff's deputy stopped to help a disabled van she had apparently been driving. The van was found to be stolen from the Sac and Fox Casino earlier in the day. Masquat was subsequently arrested.
On the same day, deputies and detectives investigated three burglaries, two being in the rural Whiting area. One of the burglaries was an occupied residence and the other was an unoccupied residence. The third burglary was a shed in the area of 254th and P. Road.
On Monday, Morse says a fourth report was made to the sheriff's office of the burglary of a shed located at 26028 P. Road in rural Holton. The victim reported missing an assortment of tools and power tools. The burglary is also believed to have occurred on August 9.
Morse says much of the property stolen during the break-ins has been recovered.
Masquat, who is being held in the Jackson County Jail, was booked on the new burglary charge Tuesday and her bond increased to $20,000.
Morse says the sheriff's office has some unidentified property that doesn't appear to be associated with these four cases. He says if you have been a victim of burglary or theft in recent days and did not report the incident, please contact the Jackson County Sheriff's Office at 785-364-2251.