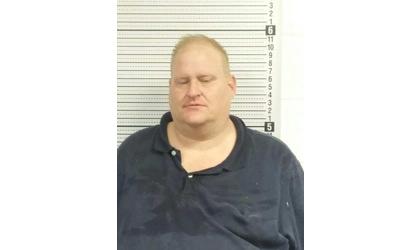 Derrick Bohnenkemper/Credit: Jackson Co Sheriff's Office
(KNZA)--An early Tuesday morning Jackson County shooting leaves one dead and one behind bars.
Jackson County Sheriff Tim Morse, in a news release, said 49-year-old Derrick Bohnenkemper, of Holton, was arrested following a standoff at a residence, located at 26985 Q. 4 Road, north of Holton.
He's accused of fatally shooting his father, 73-year-old Gaylen Bohnenkemper of Holton.
The standoff began around 3:00 when deputies responded to that location after a woman reported that her son had shot her husband twice in the head.
When they arrived, deputies saw a man inside the home, armed with what Morse described as a long gun.
They made their way to the home and rescued the woman who had made the report of the crime.
The release says they got her to safety through her bedroom window as Bohnenkemper was attempting to break down the door into the room.
Morse was able to contact Bohnenkemper by phone.
Despite a conversation lasting several hours, Morse said Bohnenkemper refused to leave the home, with deputies launching tear gas into the residence. As they did, Morse said Bohnenkemper fired a shotgun in their direction, striking a vehicle used for cover, but causing no injuries.
Around 8:30, Morse said Bohnenkemper exited the home and surrendered.
Gaylen Bohnenkemper was found dead inside the home.
Derrick Bohnenkemper was evaluated by Jackson County EMS and transported to the Jackson County Jail, where he faces murder charges.
Morse said his office was also assisted by the Holton Police and Fire Departments.