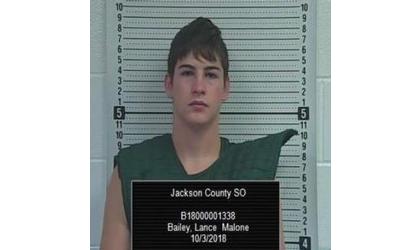 Lance Malone Bailey
(KNZA)--A teenage girl remains hospitalized, and another teenager is in custody, following a Wednesday afternoon Jackson County shooting.
Jackson County Sheriff Tim Morse, in a news release, said the 17-year-old Mayetta girl was shot during what's believed to have been a verbal altercation at 15580 L. Road on the Potawatomi Reservation, west of Mayetta.
Morse says a car occupied by three females drove into the drive way of the residence when 18-year-old Lance Malone Bailey, of Mayetta, allegedly opened fire with a rifle, striking the victim twice who was then standing in the drive.
The three girls left the scene in the vehicle and called law enforcement.
The victim was transported to a Topeka hospital where she remained in satisfactory condition as of Wednesday night.
Morse says Bailey was taken into custody and later booked into the Jackson County Jail on charges of attempted first-degree murder, aggravated battery, three counts of aggravated assault, possession of a controlled substance and possession of drug paraphernalia.
Morse says the shooting remains under investigation.
The Potawatomi Tribal Police Department is assisting with the investigation.
Morse asks that anyone with information about the shooting contact either the Jackson County Sheriff's Office or Potawatomi Tribal Police.