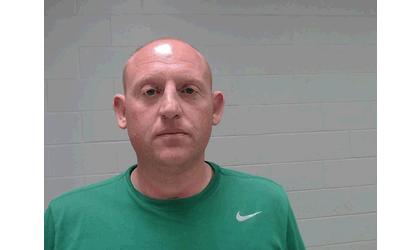 Travis George/Credit: Atchison Co Sheriff's Office
(KNZA)--A former area school official is set to be sentenced November 16 after pleading guilty to charges stemming from an August domestic altercation.
38-year-old Travis George, of Atchison, entered the plea last week in Atchison County District Court to misdemeanor charges of domestic battery, criminal damage to property and possession of marijuana.
In exchange for the plea, misdemeanor charges of criminal restraint, endangerment of a child and possession of drug paraphernalia were dismissed.
The charges stem from an August 18 domestic disturbance at his residence, which police say turned physically violent.
Police say when his wife attempted to leave the residence in a vehicle with the couple's young children, George broke the rear window out of the SUV that she was in and climbed into the vehicle.
He was treated for cuts and abrasions at the Atchison Hospital following the incident and then arrested.
During a short special meeting September 27, the Board of Education for the South Brown Schools of USD 430 accepted George's resignation as high school activities director and head golf coach.
He had been hired for the positions in May.