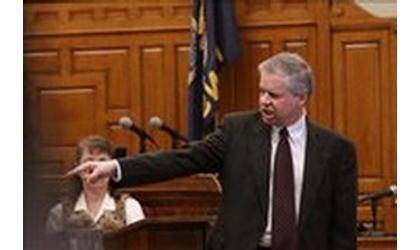 Atchison County Attorney Gerald Kuckelman
(KAIR)--The Atchison County Attorney is appointed to serve as a District Judge for the 1st District Court of Kansas.
A news release issued early Friday afternoon by the office of Kansas Governor Jeff Colyer confirms that Jerry Kuckelman was selected for the role.
Kuckelman was elected as Atchison County Attorney in 2000, and also serves as a municipal judge for several communities in northeast Kansas.
He previously served as an Assistant Attorney General with the Kansas Attorney General's Office, and was named Kansas Prosecutor of the Year in 2011.
Kuckelman was selected to serve as 1st District Judge from among a list of four finalists seeking the position.
Atchison County Sheriff Jack Laurie tells MSC News he wasn't surprised by Kuckelman's selection for the role. "I think he's definitely a good fit for that position...he's been a good County Attorney for Atchison [County], and we've always had a good relationship with him."
The appointment fills a vacancy created by the June retirement of Judge Gunnar Sundby.
The Kansas 1st Judicial District is comprised of Atchison and Leavenworth Counties.
According to Atchison County Counselor Patrick Henderson, an interim Atchison County Attorney will be appointed by 1st District Judges Martin Asher and Robert Bednar upon Kuckelman's formal resignation, which could come as early as Monday.
The Atchison County Republican Central Committee will later hold a convention to nominate someone to serve the remainder of Kuckelman's term, with the nominee to then be appointed by Colyer.