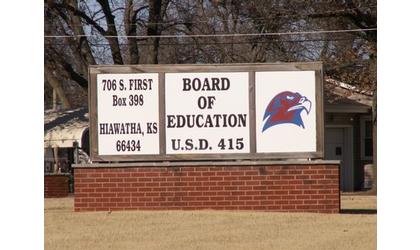 (KNZA)--Classified staff in Hiawatha USD 415 have been granted a pay raise.
Following an executive session, the USD 415 Board of Education Monday evening approved a 3.72 percent pay increase for classified staff.
Classified staff includes employees paid an hourly rate.
In other business, District Maintenance Supervisor Matt Cluck reported construction of the new high school track is complete except for the painting of the lines.
In order to protect the new track, Cluck presented a proposal for the installation of fencing around the track and football field. He said the concern is people standing on the track.
Following discussion, the Board directed Cluck to look into other options and report back to the Board next month.
In addition, he presented a quote from a local dealer for the purchase of a new riding lawn mower. The Board took no action, directing Cluck to obtain additional quotes for their consideration next month.
Cluck reported the project to replace the High School gymnasium roof along with roofs of the locker rooms and weight room has been pushed back to mid-November.
Superintendent Lonnie Moser said he will be providing patrons an opportunity to have coffee and conservation with him Wednesday morning, October 17.
The event will take place in the Board of Education Office beginning at 9:00.
Moser invites patrons to meet with him at that time.