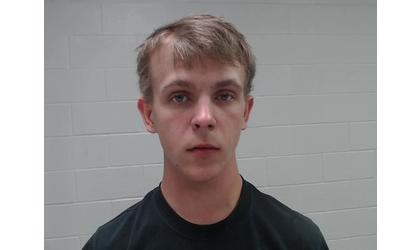 Austin Hager/Credit: Atchison Co Sheriff's Office
(KAIR)--An Atchison man is in custody, arrested in connection with a wreck last summer that left his two passengers injured.
Atchison County Sheriff Jack Laurie, in a release, said 19-year-old Austin Hager was arrested Thursday.
He was taken into custody on an Atchison County District Court Warrant for charges of aggravated battery, DUI, reckless driving, and failure to stop at a stop sign.
The Kansas Highway Patrol investigated the July 5 crash that happened two miles west of Lancaster.
Traveling at what Laurie calls a high rate of speed, Hager, according to the Patrol's report, was northbound on Greeley Road, at the T-intersection at 286th Road, when he failed to stop, going straight through the intersection.
His Chevrolet Camaro left the roadway, struck an embankment, and then collided with a tree.
Hager and a passenger, 17-year-old Muscotah resident Jacob Hamilton, were taken by Atchison County EMS to Mosaic Life Care in St. Joseph, Missouri.
A second passenger, 18-year-old Lancaster resident Michael Baker, was flown by LifeStar helicopter to the University of Kansas Hospital in Kansas City
The Patrol says the three were not wearing seat belts at the time of the wreck.
Following his arrest, Hager was booked into the Atchison County Jail.
He is currently free on a $10,000 bond.