Violent offender faces new charges
06/25/2019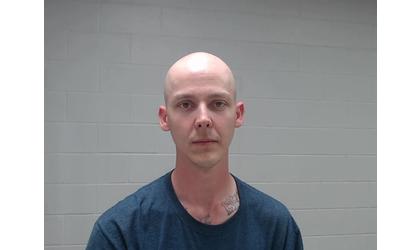 Matthew Hermreck/Credit: Atchison Co Sheriff's Office
(KAIR)--An Atchison man with a violent criminal past is back in jail, accused of other violent crimes.
32-year-old Matthew Hermreck was arrested Monday by Atchison Police on Atchison County District Court warrants charging him with aggravated domestic battery, domestic battery, and criminal damage to property.
Atchison Police Chief Mike Wilson told MSC News, Hermreck's arrest stems from crimes allegedly committed last month. "Hermreck is now charged following investigations related to incidents, actually on two occasions, one being on May 19, the second on May 25. It does involve a 36-year-old victim," Wilson said. "On May 19, the victim reported that she was struck and choked by the suspect, and on May 25, she reported that the suspect damaged a door, struck her, and choked her."
Following his arrest, Hermreck was booked into the Atchison County Jail.
His bond is set at $20,000 in connection with the alleged Atchison County crimes. However, he's also held on a Kansas Department of Corrections warrant for parole violation, with a no-bond hold.
Hermreck was sentenced in December, 2012 to 7 ½ years in prison on a charge of attempted second-degree murder.
The sentence, handed down in Brown County District Court, was in connection with what prosecutors said was the brutal beating of a Horton woman at her home.
The victim in that case spent several weeks at KU Medical Center in Kansas City following the attack. The victim's three-year-old daughter also suffered injuries that required hospital treatment.
© Many Signals Communications
You will need to be logged in to leave a comment.
Please Login The posting of advertisements, profanity, or personal attacks is prohibited.
Click here to review our Terms of Use.