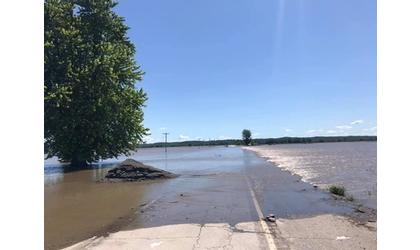 Flood waters remain across U.S. Hwy 59, east of Atchison, KS in Buchanan Co, Missouri. (Credit: Atchison County, KS Emergency Management/Facebook
(KAIR)--No timeline is immediately established for the reopening of a major, local area travel route that remains closed due to flooding.
U.S. Highway 59, east of Atchison, in Buchanan County, Missouri, has been closed since May 21.
Marcia Johnson, Senior Communications Specialist for the Northwest District of the Missouri Department of Transportation, told MSC News Tuesday the current high levels of the Missouri River are keeping the roadway closed.
She said that while flood waters remain over the highway in three locations, MoDot had hoped to reopen one lane of the highway this week. However, due to the current river level, and the projected forecast from the National Weather Service, that was not possible. She said when the river reaches 22 to 22 ½ feet, considerations of a reopening can be made, but that does not appear to be likely in the immediate future. However, she did say that rumors swirling locally that a reopening may not happen until fall are unfounded currently.
Johnson said it also remains unknown just how much damage the highway may have incurred from the flood waters, but crews will examine the roadway, and make necessary repairs, once the water recedes.