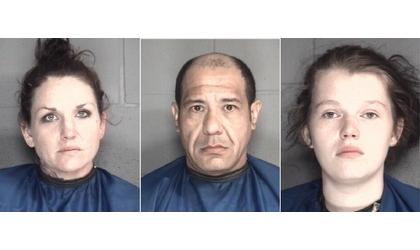 L to R: Jessica Mottin, Cory Wabski, and Ciara Swenson/Credit: Leavenworth County Sheriff's Office
(KAIR)--A Leavenworth County traffic stop led to the arrest of three Atchison residents and to the alleged discovery of methamphetamine.
According to a news release issued by the Leavenworth County Sheriff's Office, the stop was made around 8:15 Monday night on U.S. Highway 73, north of Happy Hollow Road, due to the driver having a suspended license.
The Atchison County Sheriff's Office was called to assist, and through the use of that agency's K-9 Unit, it's alleged that 60 grams of methamphetamine were found inside the vehicle.
Atchison County Sheriff Jack Laurie told MSC News arrested at the scene were 30-year-old Jessica Mottin, who was driving, along with 41-year-old Cory Wabski, and 18-year-old Ciara Swenson.
All three were booked into the Leavenworth County Jail on charges related to the case.