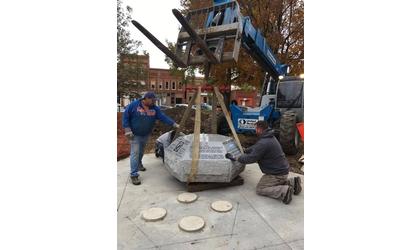 Doniphan Co Veterans Monument being put in place last November
(KNZA)--A monument honoring Doniphan County veteran's will be officially dedicated Saturday afternoon, May 20th.
That will take place during a 2:00 ceremony at the monument located in the northwest courtyard at the Courthouse in Troy.
The 84-hundred pound granite stone monument, engraved by Atchison-based Byrd Memorial Company, was delivered last November. The centerpiece depicts individual sections of each branch of the military.
Bricks have been placed around the monument containing the names of those who have served or are currently serving in the military.
Late last year, five Troy High School FFA members and sponsor David Pottroff assembled six benches made from recycled tires for the memorial area. Five of the benches bear the names of the different branches of the service. The other bench is engraved with the letters KIA, MIA or POW in memory of those service members killed in action, missing in action or held as prisoners of war.
Planning for the memorial was first proposed to the Doniphan County Commission in October 2014 by the late Dave Clark along with representatives of an organizational committee composed of Troy American Legion and Veterans of Foreign Wars members.