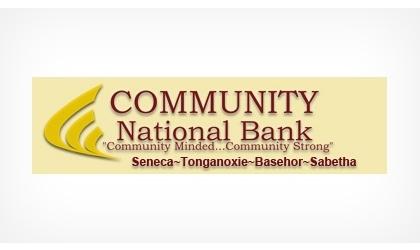 (KMZA)--Community National Bank, of Seneca, has announced a $50,000 matching grant in support of a new Agricultural Education Learning Center building for the Nemaha Central Schools.
With the grant, the bank said in a press release that it hopes to challenge others in the agricultural industry and to help establish the physical presence of the program by supporting the community's agricultural heritage and expanding local educational opportunities.
The release says CNB will match, dollar for dollar, up to $50,000 for every contribution made towards the project.
In the spring of 2016, USD #115 School Board announced the addition of an agricultural education curriculum to Nemaha Central High School. During the fall of 2017, classes began and the Nemaha Central chapter of FFA was formed.
As the next progression in the curriculum, the board and school administration are developing plans for the addition of an agricultural learning center to NCHS. The plans for the expansion will initially consist of a classroom, learning labs, and a green house facility to facilitate functional learning throughout the school year. Future plans may consider a school farm that is capable of facilitating livestock educational experiences.
"This is an exciting addition to the NCHS curriculum", stated Darrel Kohlman, Superintendant of USD #115. "All contributions towards the matching grant will be accepted through the Nemaha Central Education Foundation."
The Nemaha Central FFA chapter looks forward to February 22nd, when it will host its first annual Mountain Oyster/Soup Supper and Work Auction fundraiser