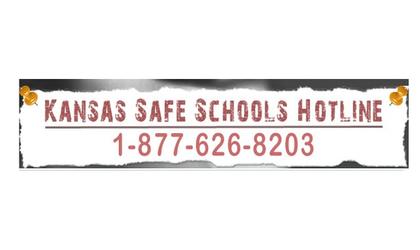 (MSC News)--It's been around for nearly 20-years, and the Kansas Highway Patrol wants to make certain the public remembers in order to avoid a tragedy.
The Kansas Safe Schools Hotline was established in 1999 through a partnership with the Patrol and the Kansas State Department of Education.
Implemented in order for the public to place anonymous tips pertaining to threats of school violence, the Patrol, in a news release, says awareness of the hotline is a must in light of school shootings across the nation.
Patrol Superintendent Colonel Mark Bruce says "Kansas is not immune to its schools being threatened with acts of violence," saying that the "serious issue" "demands assistance from the public," and encourages everyone to treat any threat "as real, and report it to law enforcement authorities immediately."
The toll free number, 1-877-626-8203, is available 24 hours a day, year round.
The release says any potential threat to schools should be called in to allow "the authorities to look into the validity of the threat and sort through the details."