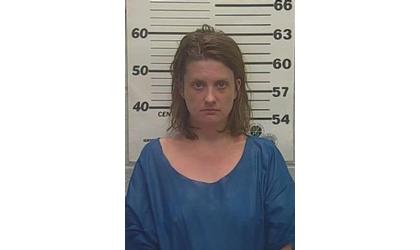 Angela Smith/Credit: Atchison Co Sheriff's Office
(KAIR)--An Atchison investigation, focused on the possession of methamphetamine that began last year, leads to one arrest.
Atchison Police Chief Mike Wilson told MSC News 40-year-old Kansas City, Missouri resident Angela Smith was arrested Tuesday. "We did conduct an investigation on the afternoon of August 24, late last summer, and that investigation focused on a 40-year-old Kansas City woman who was in the area of 22nd and Forest Park Avenue," Wilson said. "We had actually been alerted to respond there to check on the welfare of a woman. We found her on foot in the area. Checking on her led to an investigation with the discovery of methamphetamine and drug parapharnelia. She was taken into custody in recent days in Jackson County, Missouri, and then has since been brought to Atchison."
Smith was taken into custody on an Atchison County District Court warrant for possession of methamphetamine and possession of drug paraphernalia.
Following her arrest, Smith was booked into the Atchison County Jail, held on a $10,000 bond.