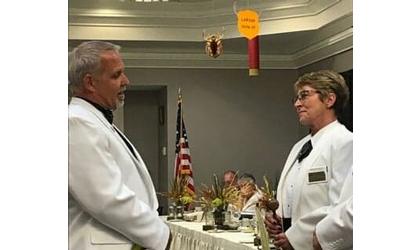 Atchison's Debbie Betts (right) is installed as President of the KS Elks Association by Past State President, Jim Capper, of Overland Park (left).
(KAIR)--It was earlier this month that an Atchison woman achieved a first: becoming the first female president for the Kansas Elks Association.
Debbie Betts was installed into that position during a ceremony held during the weekend of May 5. "I feel blessed, I'm humbled, I'm honored," Betts told MSC Radio News. "It's just a whole different feeling than being an officer or being a District Deputy Grand Exalted Ruler. It's going to be an amazing year. I know it is."
Betts has long been involved in roles of leadership for the Elks, including her long-running involvement with Atchison Elks Lodge #647.
MSC Radio News Director Brian Hagen sat down with Betts to talk about her new role.