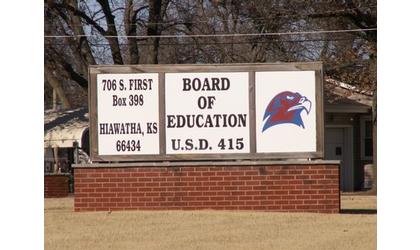 (KNZA)--The Hiawatha Board of Education held its first meeting of the new fiscal year Monday evening, which included the election of a new board president, acceptance of several retirement resignations and approval of several new high school courses.
The Board voted to elect Ian Schuetz as board president for the 2018-19 school year.
Dr. Pete Rosa, who has served as board president the past three school years, was elected as vice-president. Rosa said with his work schedule he preferred not to continue as board president but agreed to serve as vice-president.
The Board accepted ,with regrets, the retirement resignations of Elementary School Principal Tom Schmitz along with two longtime teachers--Middle and High School vocal teacher Sarah Kleopfer and 5th grade teacher Staci Charles. All three resignations are effective at the end of the 2018-19 school year.
In addition, the Board accepted the resignation of Middle and High school Nurse Cheryl Mishler, effective immediately.
The Board also approved the hiring of Amanda Hinton as High School Administrative Assistant.
Following discussion, the Board approved the addition of three new high school classes and fees for the classes. They include two new "shop" classes--- small engines and welding. Also added was a recreational sports class. The classes will be offered to all high school students.
Maintenance Director Matt Cluck provided an update on district projects—including the new high school track. He said the old track has been torn out and the contractor hopes to pour the concrete base for the new track by the end of this week.
He also said High School auditorium ceiling and lighting replacement project is 90 percent complete.