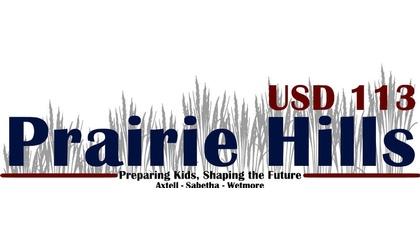 (KNZA)--The Prairie Hills USD 113 Board of Education held its first meeting of the new fiscal year Monday evening, which included the election of board officers for the 2018-19 school year.
Superintendent Todd Evans says Ed Reznicek was re-elected Board President for the 7th consecutive year. Kathy Lippert was re-elected vice-president.
In other action, Evans says representatives of the Sabetha Booster Club presented a proposal for the installation of a sound system for the new Sabetha High School press box.
He said the proposal from Sound Products Inc., of Olathe, places speakers on the scoreboard. The district' s cost will be $9,800 of the $19,600 system, with the Booster Club paying the remaining balance.
The Board previously agreed to pay 50 percent of the cost of the new press box, up to $60,000. So far, that amounts to just under $48,000. The total cost for the district, with payment of half the sound system, would be nearly $58,000.
Discussion was held regarding the proposed relocation of Axtell School office to the current high school library location.
Two architects toured the school. They provided estimates on the cost of relocating the current office and re-purposing the current office into learning space, which ranged from $100,000 to $150,000.
Evans was directed to obtain more information regarding architectural fees and a time frame as to how long the project will take to complete.
The Board will revisit the item at the August meeting.