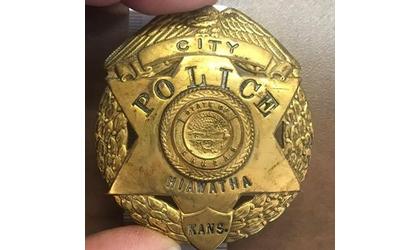 50's era badge to be reinstated

(KNZA)--The Hiawatha Police Department wants to bring back the old 1950's era police badge as the department's official uniform badge.
The Hiawatha City Commission this week gave Police Chief John Defore approval to solicit donations to reinstate the badge.
Defore said it will cost around $1,575 to switch back to the badge.
Defore said since posting a picture of the old badge on the police department's Facebook page, he has received interest in seeing the badge brought back.
He said he believes reinstatement of the unique badge is another way the city of Hiawatha can stand out and be original.
Those who would like to donate to the badge fund can either mail or drop their donation by the Police Department or City Hall during regular business hours.
The old 1950's era police hat and badge is currently on display at the Hiawatha City Hall.