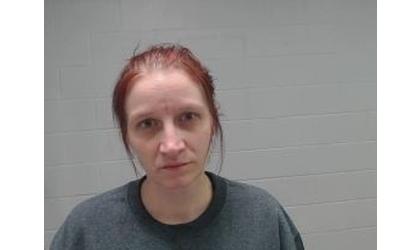 Samantha Tull/photo credit:Atchison Co Sheriff's Office
(KAIR)--An Atchison Police investigation into the criminal use of a financial card has led to the arrest of an Atchison woman.
According to Police Chief Mike Wilson, 33-year-old Samantha Tull was taken into custody Thursday on charges of theft, computer crime, and criminal use of a financial card.
"It's a financial investigation that's been underway for recent days, and it centers around a 87-year-old victim who reported the theft of a debit card, and we now know that that debit card was used at a number of locations, from mid-March through mid-April, mainly at convenience stores and ATM machines, totaling about $2,000 that was fraudulently used."
Wilson adds that the victim was acquainted with Tull.
He also says the investigation led them to several businesses both in Atchison, and outside the Atchison area, where he says the card was fraudulently used.
As of Friday afternoon, Tull remained in custody at the Atchison County Jail, with a bond set at 25-hundred dollars.
Wilson says the case, which involves felony counts, has been forwarded to the Atchison County Attorney's Office.