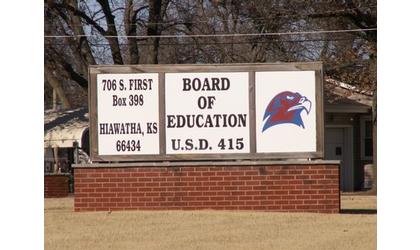 (KNZA)--The Hiawatha school district has received a nearly $12,000 donation from the Hiawatha Youth Basketball League.
Jodi Twombly and Kylee Reschke, representing the League, presented a check for $11,500 to Board of Education President Ian Schuetz during Monday evening's USD 415 Board of Education meeting.
$7,500 of the donation is for a new scoreboard at the middle school and $4,000 is to go toward renovation of the training room at the high school.
Since beginning in 2013, the league has donated nearly $27,000 to the school district.
Twombly said the league for boys and girls in 2nd through 6th grades started seven years ago with 29 teams and has grown to sixty-two teams, with 560 players.
The league lasts 7 weeks, which includes a tournament for each age division. Thirty-two games are played.
Games are played at the Hiawatha High School and Middle School along with the National Guard Armory.
Twombly said the average attendance is estimated between 1,800-2,000 each Saturday during January and February.