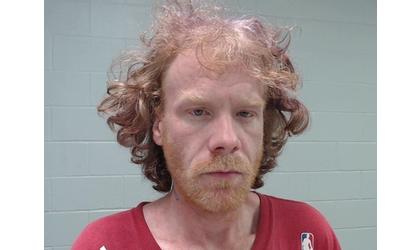 Darren Powell/Credit: Atchison Co Sheriff's Office
(KAIR)--An Atchison man is facing charges in connection with the sale of methamphetamine.
According to Atchison County Sheriff Jack Laurie, 40-year-old Darren Powell was arrested Wednesday night on an Atchison County District Court Warrant.
Laurie told MSC News the warrant was issued following a February investigation that was launched after his office received numerous complaints from the public about suspected drug activity in the 800 block of Kansas Avenue, in Atchison. "From time to time we get these complaints in certain areas of the city, and in the county, and we try to take care of them," Laurie said. "We were definitely getting a lot of complaints about this area, and hopefully this [arrest] will help alleviate that problem."
The warrant charges Powell with distribution of methamphetamine within 1,000 feet of a school, possession of paraphernalia with intent to distribute, unlawful use of a communication facility in the distribution of a controlled substance, and no drug tax stamp.
The alleged crimes occurred near Atchison's Central School.
Following his arrest, Powell was booked into the Atchison County Jail.
His bond is set at $50,000.